Hello friend! I'm Marina Krutchinsky, a UX leader and mentor with over two decades of industry experience.

I lead the design of complex digital products, and coach UXers on using their strengths to up-level their careers.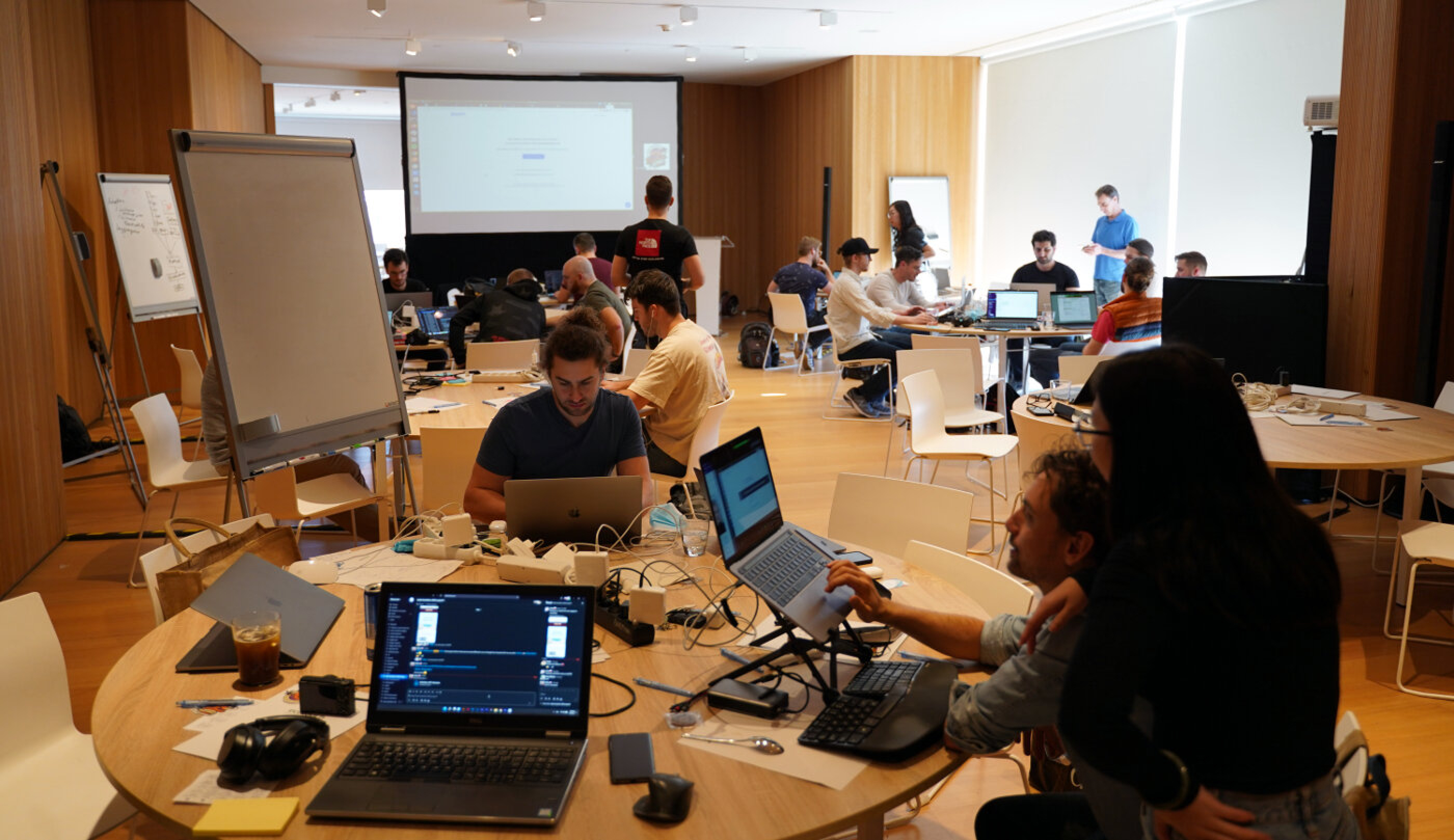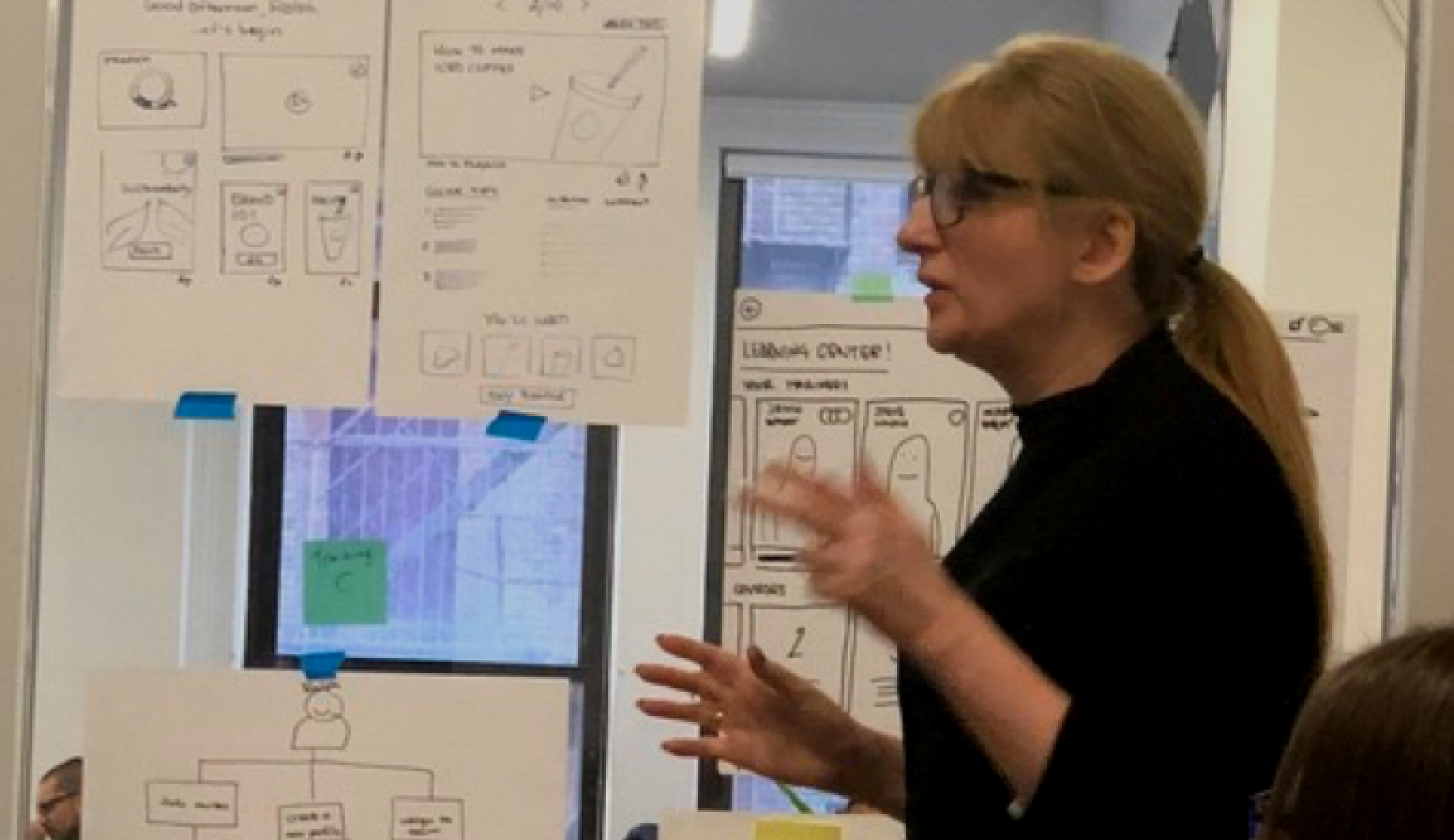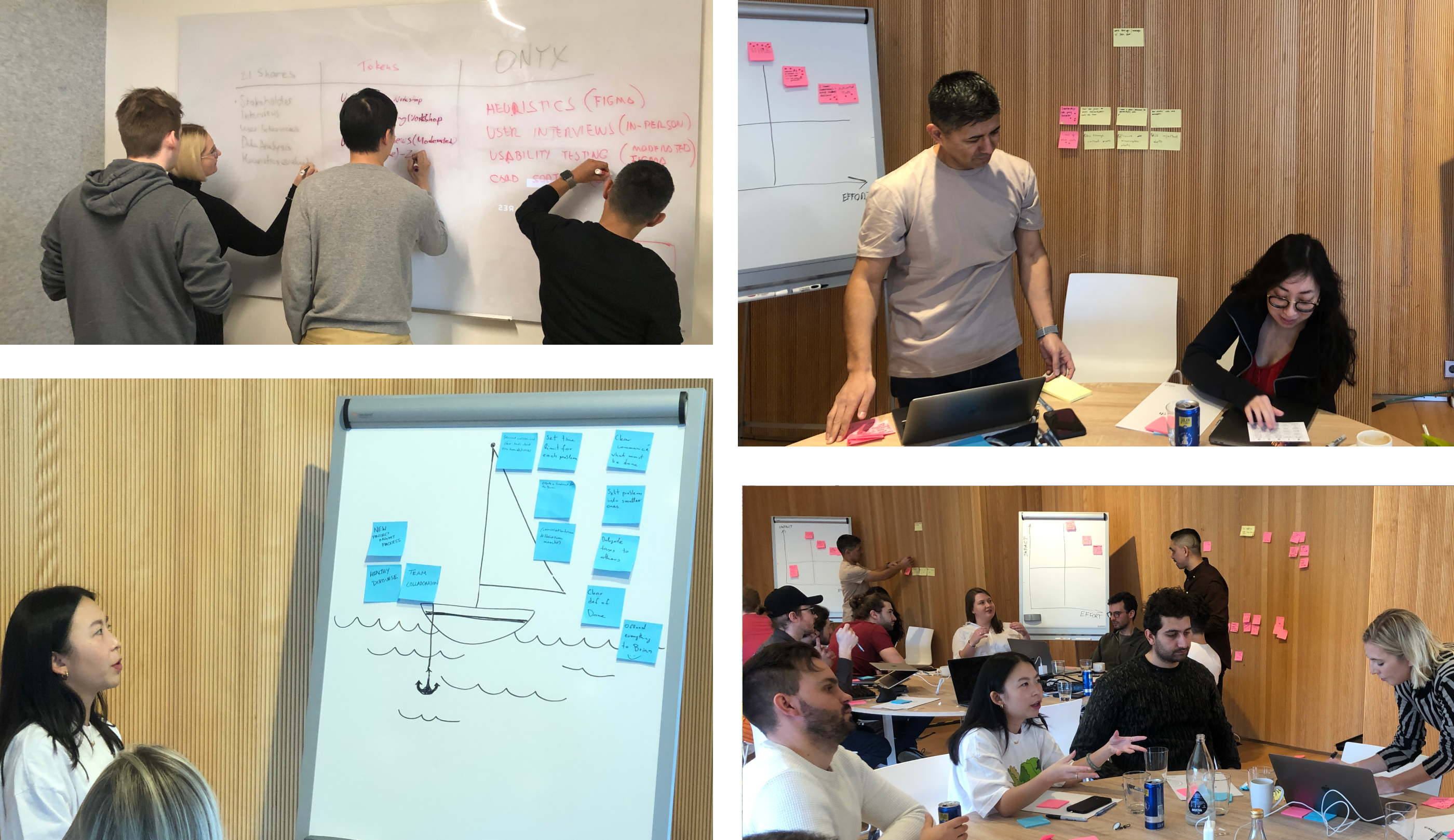 B A C K G R O U N D
UXer since 2001
Originally coming from the world of mechanical engineering, industrial design and systems thinking, by the late '90s I embraced all things digital – especially the innovative co-creation methodologies and immersive empathy native to IDEO's school of design thinking. And helped my clients change ways they approached design, guided them through the ambiguity, identified their customers' critical pain points and corresponding areas of opportunity resulting in shipping digital products that improve people's lives and actually matter to humans.
E X P E R I E N C E
From Fortune 500, to early stage startups
Over the last two decades, I've worked with companies of all sizes – shaping UX of the next-generation financial services (American Express); simplifying onboarding experience for the mainstream crypto users (21.co, 21Shares, Amun); designing effective e-commerce experiences for famous brands (Starbucks, Intel, Tabasco); streamlining the fundraising process with powerful search tools (Foundation Center); revamping a professional medical digital library (WebMD/MedScape); modernizing extranet experience for engineers (Otis); prototyping and building a chatbot-based grad school application system, and much more.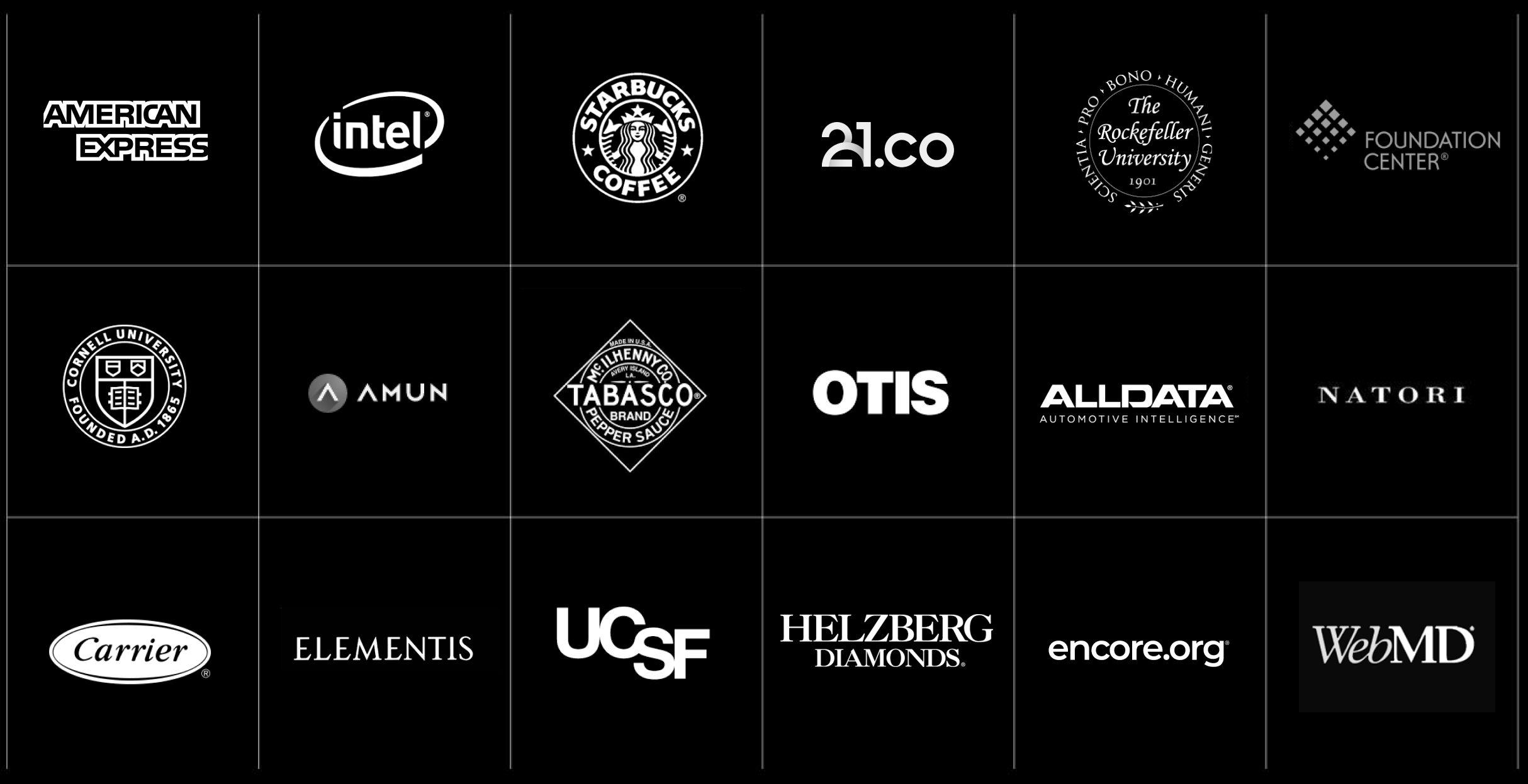 Design Leadership
UX/product design team building and management, including recruiting, interviewing, hiring, onboarding, guiding, motivating, and supporting.
UX Mentorship
1:1 UX mentorship and career coaching for designers and researchers, from aspiring UXers to director-level leaders.
Product Design
Discovery work, including workshop facilitation, stakeholder & user interviews, personas, user scenarios, user journey mapping, competitive research, heuristic reviews, and more.
R E C E N T _ W O R K
21.co: Bringing two crypto brands together
COMPANY: 21.co
PROJECT TYPE: Site design
MY ROLE: Design leadership
LEAD DESIGNERS: Jerzy Zareba, Filip Geschwadtner
URL: 21.co
LAUNCHED: September 2022
My design team was thrilled by the challenge of bringing together – visually and perceptively – our two separate crypto brands/product lines originally intended for two distinct types of users. 21Shares, crypto ETP product suite, targeted institutional/TradFi investors, while Amun was designed for the DeFi natives. 21.co was intended to build upon the strengths of both brands and become their parent entity. The 21.co site and brand were launched on September 7, 2022 and coincided with a funding round announcement that put 21.co valuation at the $2 billion mark.
"Marina is one of the most thorough, skilled, knowledgeable and pleasant product design heads I have ever worked with. Her capabilities, viewpoints and attitudes towards design and product design are some of the most sensible and comprehensive I have ever encountered in a peer / partner. She possesses strong knowledge over her craft and management in general, and she is also a joy to work with."

Brian Aznar
Former VP of Engineering, 21.co (Amun/21Shares)
R E C E N T _ W O R K
American Express: POA journeys
COMPANY: American Express
PROJECT TYPE: Concept exploration
MY ROLE: Lead UX Designer
The goal for this exploration was to create and test a scalable integrated experience focusing on a broader set of the customer needs. And by doing so, deepen Amex's relationship with their business customers. The research had shown that by making a seamless transition from a single product relationship to a multi-product with intuitive navigation and a quick access to frequently used tools, making payments, invoicing, requesting and receiving payments, managing cashflow and expenses quick and easy, while embedding opportunities to earn rewards and benefits, we would create an experience that anticipates customer needs and drives adoption.
"I worked with Marina for several years at American Express. Throughout our time working together, Marina never missed a beat. She excelled at all she did, was a strong advocate for good user centered product design and delivered with excellence. Her knowledge in the field, patience to understand the problem, and effortless ability to prove value to partners, made her an exceptional leader in this space."

Jack Paccione
Former UX Director, American Express
M E N T O R S H I P
UX mentor since 2011
Over the last 10 years, I've mentored hundreds of UXers – both aspiring and experienced, privately and in a bootcamp setting. Many of them happened to be career switchers. Today, many of my students are happily employed in UX or Product roles across Fortune 500, start-ups and academia.
"Marina is without a question the best leader I ever had the pleasure to work with…she truly cares about the team, about the mental state of every single person…allowing other designers to have different opinions than her, which makes their voices relevant.. I also admire her way of thinking, with good research and logic always being top priorities in our projects. She inspires everyone to be the best designer they can be. Thanks to her approach, her guidance and her support I strongly believe I became a better designer than I ever was."

Jerzy Zareba
Senior Brand Designer, 21.co
"Marina is an amazing leader, plain and simple. I had never been a part of a team that ran so smoothly and transparently before. Her technical expertise is undeniable, but I was touched the most by her human-centered approach. She knew the strengths and quirks of everyone on the team, and she was able to ground the pressures of the business with a compassionate attitude. With Marina's guidance, everyone's talents were maximized. She really is a star!"

Becca Cobetto
Former UX Writer, 21.co
"Marina is the kind of leader and mentor I always wished for. With her humor, dedication and open-mindedness she always makes sure everyone leaves a meeting with a smile. Marina helped me to grow as a designer and as a human. The way she juggles multiple projects is outstanding, it made a dramatic difference in the productivity level of our design team. Marina also goes out of her way to encourage different perspectives and diverse viewpoints, which deepened our connections as a team lot."
Filip Geschwandtner
Senior Product Designer, 21.co