CLIENT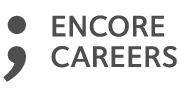 MY ROLE
Lead of Experience Design + Front-End Development
ACTIVITIES + DELIVERABLES
User Research
Interviews
User Flows
Front-End Development
(HTML/CSS/JS)
Drupal Theming
"An encore career is work in the second half of life that combines continued income, greater personal meaning, and social impact. These jobs are paid positions often in public interest fields, such as education, the environment, health, the government sector, social services, and other nonprofits." - Wikipedia
"The phrase 'encore career' was made popular by Marc Freedman, in his book Encore: Finding Work That Matters in the Second Half of Life. (Wikipedia)
Marc Freedman, one of the founders of Civic Ventures – a San Francisco-based think tank and an incubator, generating ideas and inventing programs to help society achieve the greatest return on experiences, has reframed the debate about aging in America and redefined the second half of life as a source of social and individual renewal. Since mid-2000s, Civic Ventures brought together older adults with a passion for service and helped stimulate opportunities for using their talents to advance the greater good. In these ways, Civic Ventures has been helping America realize an experience dividend.
Encore.org  has been conceived to become a flagship program aaand site for Civic Ventures, and an innovation hub tapping into the talent of older adults as a force for good.
During my time at Civic Ventures/Encore.org, I led a cross-functional web team and oversaw all aspects of interactive design and user experience. We have re-architected, re-designed and built a multitude of web-facing products, with most interesting initiative being the Purpose Prize. This Prize was created with funding from John Templeton Foundation and the Atlantic Philanthropies to showcase the value of the experience for people over 60 who are in their encore careers creating new ways to solve tough social problems and there were many smaller projects.
When we began thinking about how to showcase exceptional social innovators over the age of 60, we knew we were looking for a few specific things.
We wanted to find individuals who had discovered an innovative approach to an important social problem and whose best work was still ahead of them. "Don't call it a lifetime achievement award. They're just getting started," was the headline in our first ad in "The New York Times."
We wanted to show that social entrepreneurship wasn't limited to the rich or famous. While we believed that Jimmy Carter and Bill Gates exemplified what social innovation in an encore career could mean, we also believed that new solutions to challenging problems were being devised by everyday people in unexpected places. That was the undiscovered continent of social innovation we sought to explore.
Lastly, we wanted to show that purposeful next chapters could be written by just about anyone, that the life trajectories of people who became social problem-solvers were varied and didn't require special talents or training. We wanted to inspire people to see themselves in our Purpose Prize winners, to say to themselves, "I could do that – or something like it."
Through multiple stages of review, we strove to find individuals with compelling personal stories and demonstrable impact, who represented the widest possible diversity of issues, geographies, and backgrounds.