E X P E R T I S E
"Experience" Mindset
Guiding Principles at the Age of Experience
Serving customers instead of selling to them.
During the Experience Age, sales efficiency is increasingly dependent on the service value to users. Thanks to the network effect, positive reviews become the best advertising. Therefore, the most successful companies of our time have already switched their focus from sales to service.
Creating and valuing an emotional connection with customers over simply providing them with information.
With only 2-20% of our brain thinking rationally, humans systematically make choices that defy clear logic. We perceive and act through emotions and instincts. Would you rather read a full paragraph about the company,  or form a first impression by quickly scanning the page in seconds? Users forget information but remember experiences, and experiences are created from emotions.
Providing a complete easy-to-use solution to a customer's problem instead of elaborate features.
A common way of thinking is to assume that the more features we deliver, the more likely customers will buy our product. In the Experience Age, users are not interested in buying the functions of a product,  they simply need to solve one problem they are facing. People do not like over-featurized services because they're difficult to use. Simple, easy-to-use solutions have greater appeal.
Disruption instead of protection.
Instead of trying to protect your business from dangerous trends and aggressive competitors, at the Age of Experience, disruption is the only way to provide more meaningful and pleasant experiences for users.
Flow instead of fragmentation.
The human brain perceives experiences as a continuous flow and usually connects different contexts with one other as a whole entity. The Experience Mindset does not perceive products as separate parts; instead, it sees the product as a continuous experience flow. Such thinking allows to detect links between user needs, emotions, behavior and service features, designs and strategy.
Skills & Expertise
I design systems for humans and take pride in being a creative digital technologist who bridges the gap between design and code to serve humans in the best way possible. I have worked within cross-functional teams and with organizations of varying size, from startups to Fortune 500 companies, providing me with the opportunity to experiment, build a diverse skillset and a get it done attitude.
A long time ago, I started my career as a mechanical engineer building and testing computer models, but I have always had a passion to understand the 'Who', 'What', and 'Why' behind human behavior, perceptions, and decision making. It drove me to a deep-dive into Humans Factors and to take a number of courses in interaction design, information visualization, and psychology. With digital transformation being a key focus for many organizations and with emerging technologies becoming standard, the importance of coming up with unique digital solutions requires not only understanding what's possible but also how to convey the intent to the client in a forward-thinking way. I help formulate ways to improve and hone the integrity of a design from a programmatic perspective. I also help designers understand that how something operates on the inside influences how it appears on the outside. I strive to bring clarity to complexity, help to bridge the gap between seen and unseen while also helping to communicate new possibilities for creative expression.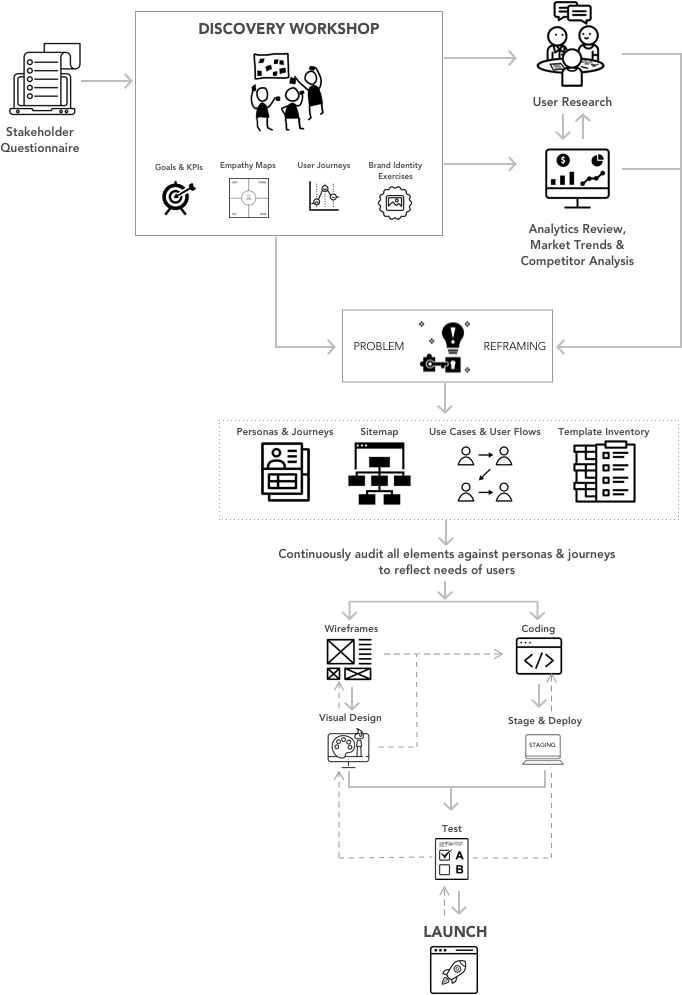 Leadership

As a UX leader, I believe in setting a clear vision and strategy for the team.
I believe in building strong relationships based on trust, transparency and grounded in nurturing empathy.
I believe in encouraging authenticity and valuing each team member's unique strengths and individual background to enrich a collaborative environment free of judgement.
I believe in setting straightforward expectations and giving autonomy to grow.
I believe in knowing individual team member's aspirations and shortcomings, and helping them tailor their professional experiences by providing plenty of opportunities to learn, take ownership and excel.
I believe in leading by example rather than managing.
"Marina helped take Civic Ventures' Web efforts to a new level, launching our new flagship site, and introducing a host of innovative solutions to longstanding challenges within the organization. She did all this with exceptional energy and good humor and an ability to juggle many tasks at once."

David Bank

Editor and CEO, ImpactAlpha: Investment News for a Sustainable Edge (former VP, Civic Ventures)