ALLDATA is the industry's leading source of online factory Diagnostic and Repair Information used by 200,000+ automotive technicians everyday.
ALLDATA currently operates 5+ separate sites serving the North-American (primarily U.S.) and European markets.

Project Background
ALLDATA provides auto repair software services and some diagnostic hardware to auto body shops, as well as factory-direct repair information for DIYers and students. They currently have a variety of websites with different branding and "voices" that are based upon either outdated or homegrown technologies. This has created a mishmash that is challenging to manage and constricts some of their business initiatives.
For example, a request to make bigger changes to the shopping cart go through an internal team which either gets it delayed, or just never approved for lack of resource availability.
They also have a European site that doesn't offer any automated commerce – it's all done manually. There are very few SKUs in their mix. They would like to do "bundling" of product offerings. There was an expectation of wanting an on-premise solution because of the security aspects associated with AutoZone (parent company who will need to sign off on security aspects). The vast majority of online orders end up calling into the customer service center, or to a sales rep.
ALLDATA was looking for a platform that works the way the rest of the technology world does today.
CHALLENGE
How Might We Help ALLDATA with Planning Digital Experience Transformation?
Users expect great digital customer experiences. To create experiences that resonate with customers, ALLDATA will need to know their customers better, but that's hard to do when the data lives in silos. We propose to break down silos and help ALLDATA to bring data and behavior together across channels, so they can deliver better customer experiences.
Upgrading the digital customer experience would make ALLDATA more competitive and more effective at delivering great products and services. A digital experience transformation journey would need a staged approach with a clear roadmap, involving a variety of stakeholders, beyond silos and internal/external limitations.
APPROACH
Humanize, Analyze, Optimize
Some companies still think digital transformation is about efficiency—saving time and money, beating competitors to market, and wooing customers with the latest gimmicks. They're wrong. In fact, digital transformation is all about improving customer experience.
Knowing Users is Everyone's Job
The human element is key to elevating experience on all levels. Since people don't want 'digital' for everything and do value human and face-to-face interactions there will always be an 'offline' element, depending on the context. Yet, also in non-digital interactions and transactions, digital experience will play a role in the sense of empowering any customer-facing agent.
Hence, building empathy with customers would be a crucial step. And the first step here is gathering information and insights about current users. We helped ALLDATA stakeholders identify the archetypes representing their real users and to help building a common understanding of users' needs and goals while interacting with ALLDATA online and off.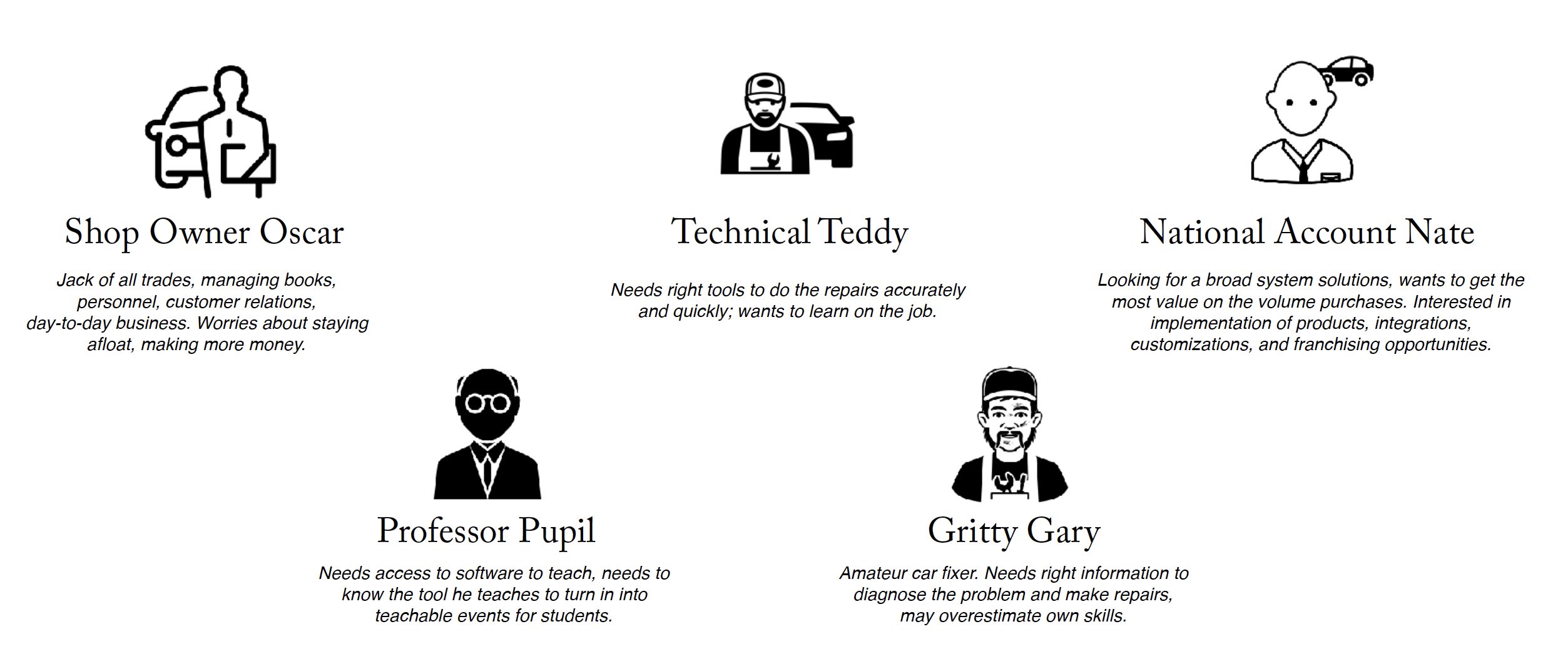 System Flow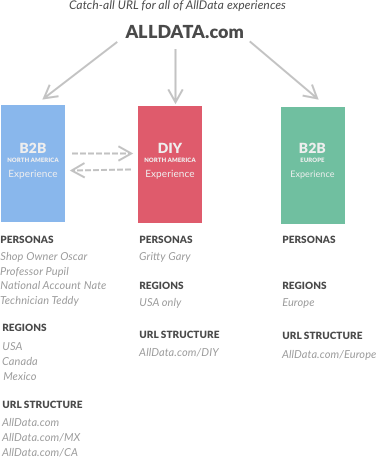 We proposed to lay out a transformation plan for going from ALLDATA's mix of homegrown e-commerce and Drupal 6 elements and URLs to a single flexible user-centered responsive platform (most likely based on side-by-side Drupal 8/Magento 2 integration) providing localization, high-level of security (compliant with EU regulations) as well as multilingual support along with sophisticated e-commerce capabilities.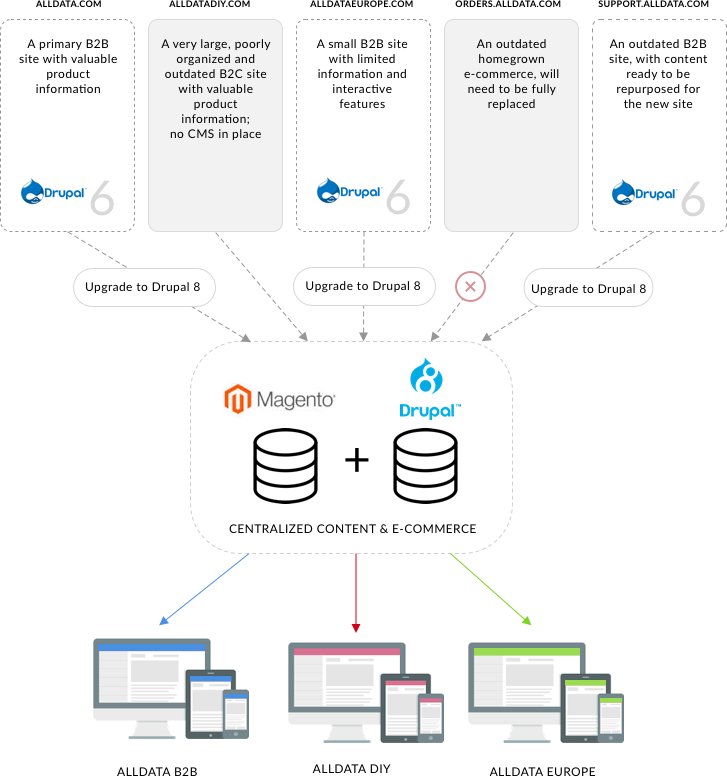 Competitive Analysis
In order to familiarize ourselves with the competitors' landscape and inform our future design decisions, we conducted an informal competitive analysis and captured its results in the spreadsheet below. By doing so, we collected some valuable insights that could help us solve usability problems, understand where ALLDATA products stand in the market, know the strengths and weaknesses of ALLDATA competition and keep our focus on a target market.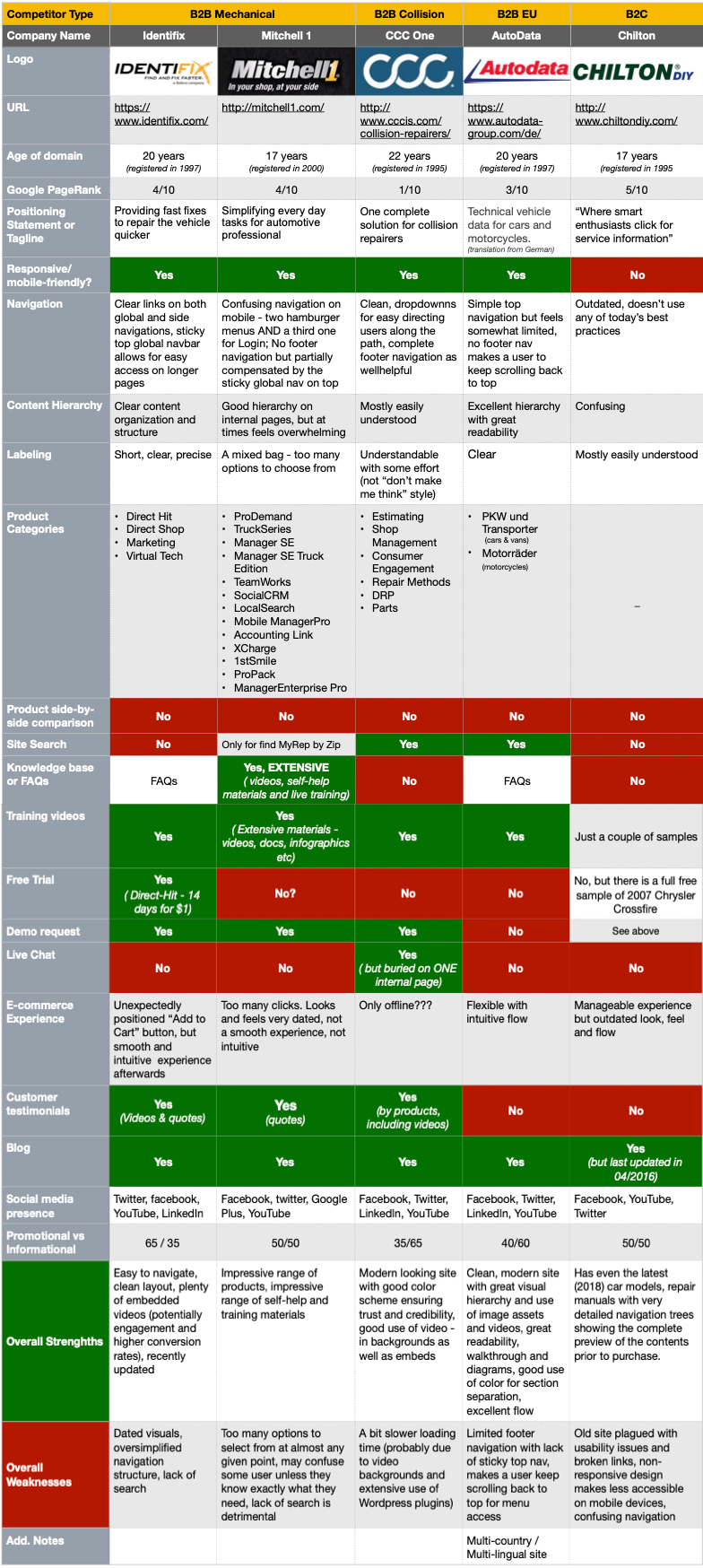 INFORMATION ARCHITECTURE
Site Maps
The sitemaps below provide the initial definition for what we are going to be delivering along with the first steps of defining the navigation.
We also use sitemaps to plan content. By laying out all future templates in advance, we ensure that we're giving consideration to every bit of content before actually putting in the work. This step would include research, writing, getting images, overall design, and all of the other elements that go into creating a great website.
KEY FEATURES
Stronger Unified Brand Perception
Improved E-Commerce Experience
Side-by-Side Product Comparison
"Build Your Own Bundle"
Help Center
Multitiered Chat Support System
Results & Next Steps
The main outcome of the Discovery stage was creating consensus and strategic alignment around what is going to be built and the need to provide the best user experience for the visitors of the consolidated ALLDATA site.  Ensuring a consistently good experience across all the various touchpoints has never been more challenging and getting it right has never been more important.
Next step:
Detailed wireframes and task-based usability testing on the core workflows.